After Nepal I thought i could do some beaching and snorkeling to have a change 🙂 The decision was made and I flew to Jakarta, capital of Indonesia. The plan is to go from west to east and then fly out from Bali to China. Obviously I didn't want to miss big attractions and do only snorkeling in Komodo islands, but also see some volcanoes and explore different places.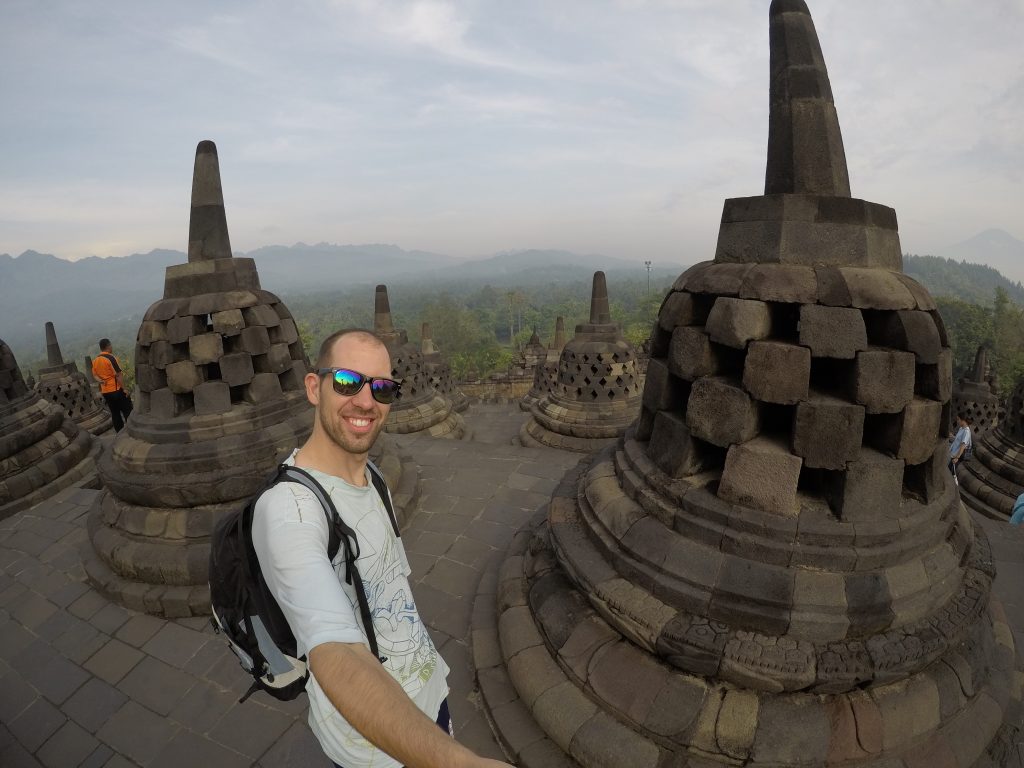 On my 30 hour awake journey i flew with my last plane to Jogjakarta. My main goal here was Buddhist temple Borobodur. I have reached my goal with a rented scooter. Temple had several floors and each floor had the sculptures with Buddha's story to nirvana on the top floor. Unfortunately for me there was no enlightenment, but school girls waiting for me with selfie sticks. I had extra time so I chatted with them for maybe 15 minutes as they were there suppose to practice English. Then we were taking photos for another 15 minutes 🙂 They were really happy and excited.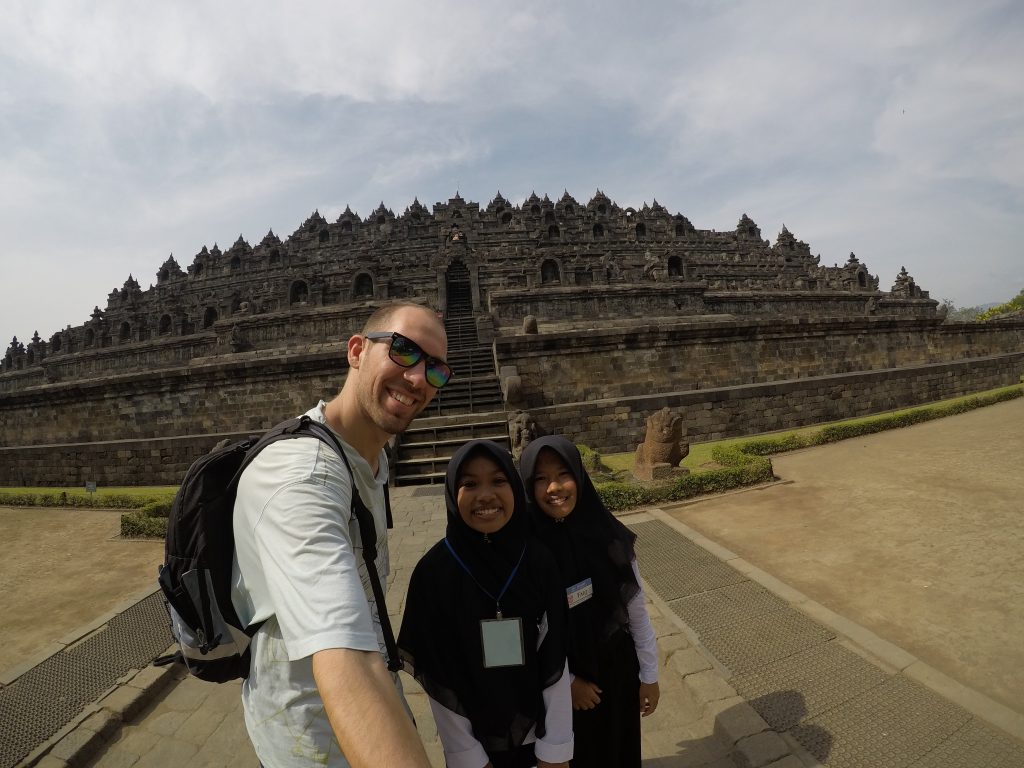 After I finished with the temple I wanted to enjoy riding my bike and thought i could visit the near by view point and waterfall. I drove around little bit too long as it started to rain when I reached waterfall. I thought it's ok, just bit of rain. I went to hide and waited for 1 and half hour. It was only getting worse. I didn't want to wait any longer. I put my plastic cape on and since then it had been the worst 2 hour ride on scooter in my life – so many water splashes and crazy floody road.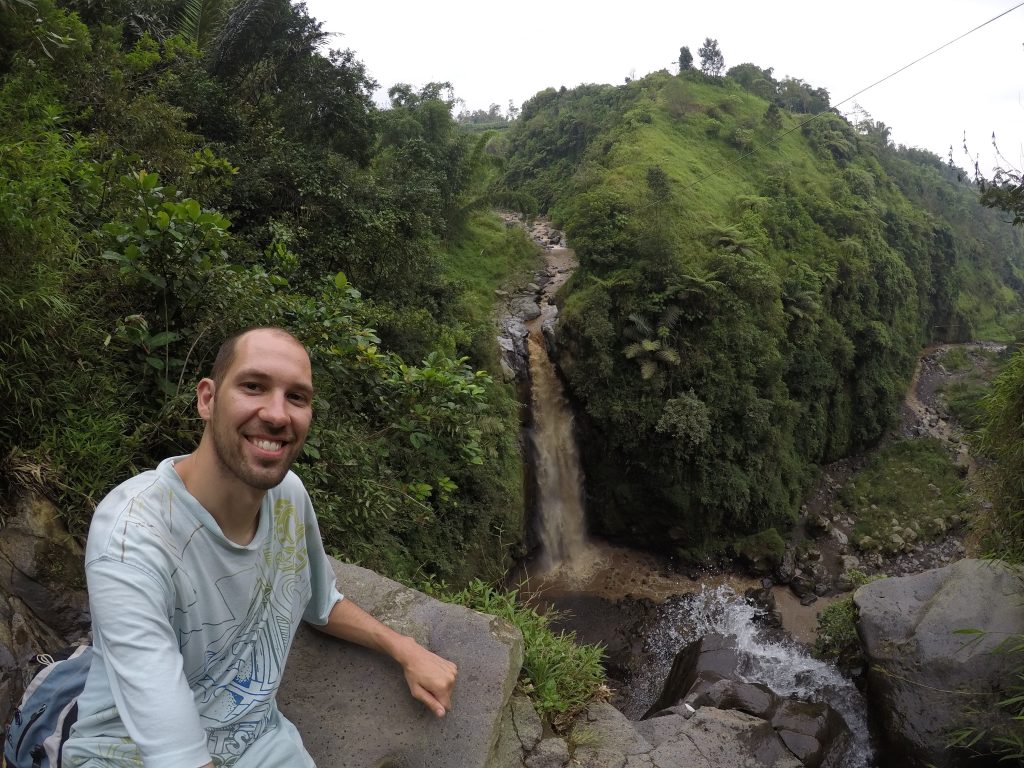 Apart from Borobodur, there are 3 main volcanoes you would want to visit. I visited only 2 of them as my time in Indonesia is limited. At least for now I chose to visit mt. Bromo and Ijen as there are relatively easy to hike up with viewpoints. At least compare to Nepal hiking. Mt. Merapi is definitely way harder and different kind of adventure – so I heard. I hiked during the night to be on the top for sunrises.
How to get to mount Bromo?
First of all I do not understand why everyone goes for the viewpoint for the sunrise(I went as well as recommended). I mean it was nice sunrise, but it is not in the same view as the volcano. Maybe the tourist companies make money out of it. I would recommend to do it during the day. The viewpoint and also the volcano as it would have way less people and basically same views. Unless it is rainy season – I feel that it is morning sunny, afternoon cloudy during the rainy season – at least for me in the beginning April 2017.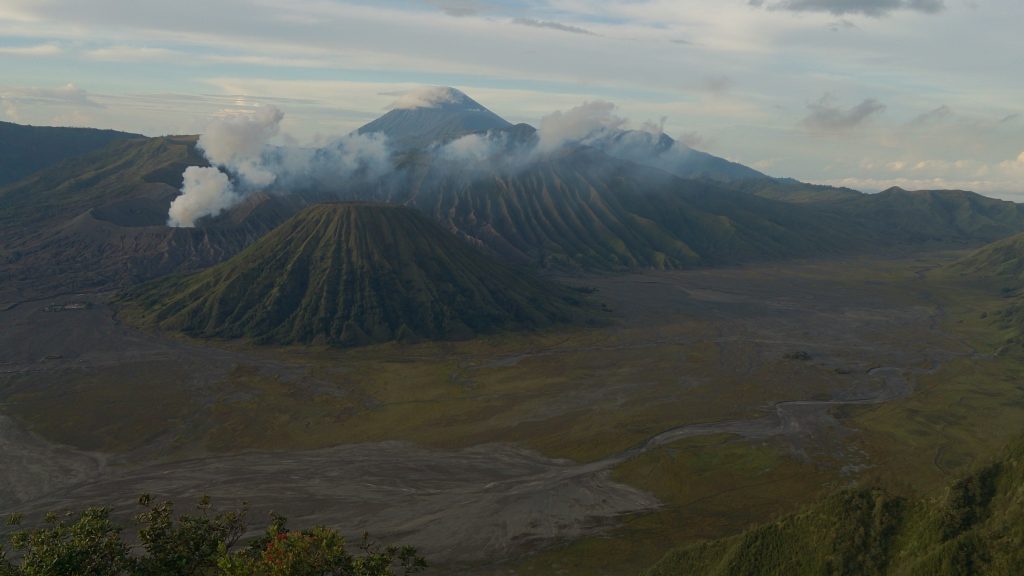 Closest train station to mt. Bromo is Probolinggo. From there you have few options.
1. team up with other travelers from train and get private car to Cemoro Lawang. We paid 350k IRP and journey back 200k IRP. It takes 1.5 hours to get there – don't count on sleeping in the jeep like me. You won't.
2. Go to bus station somehow and there is minivan for 35-40k if full. They go up to 4PM apparently. I have not used this service, but I met people who did. If the minivan is not full, then you can discuss the price for empty seats.
When you are in Cemoro Lawang and you like walking like me, then it is quite simple. You walk up to hill for the viewpoints – approximately 1-2 hours. I have reached the top viewpoint, didn't like how many people were there and went down to lower viewpoint, where there were way less people and I could move at least, similar view and totally worth it.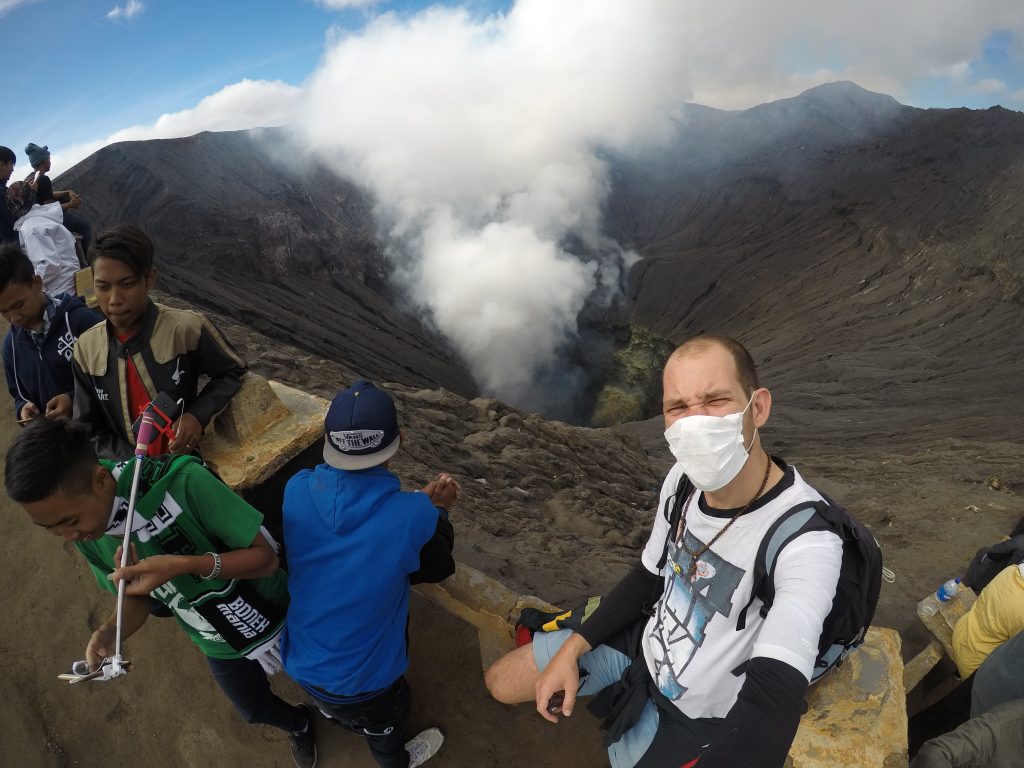 After photo shooting I descend the same way down and took the shortcut over "sea of sand" towards volcano. I took the path which is used mainly for horses. I haven't been in proper desert, but this felt different with the volcano in the background.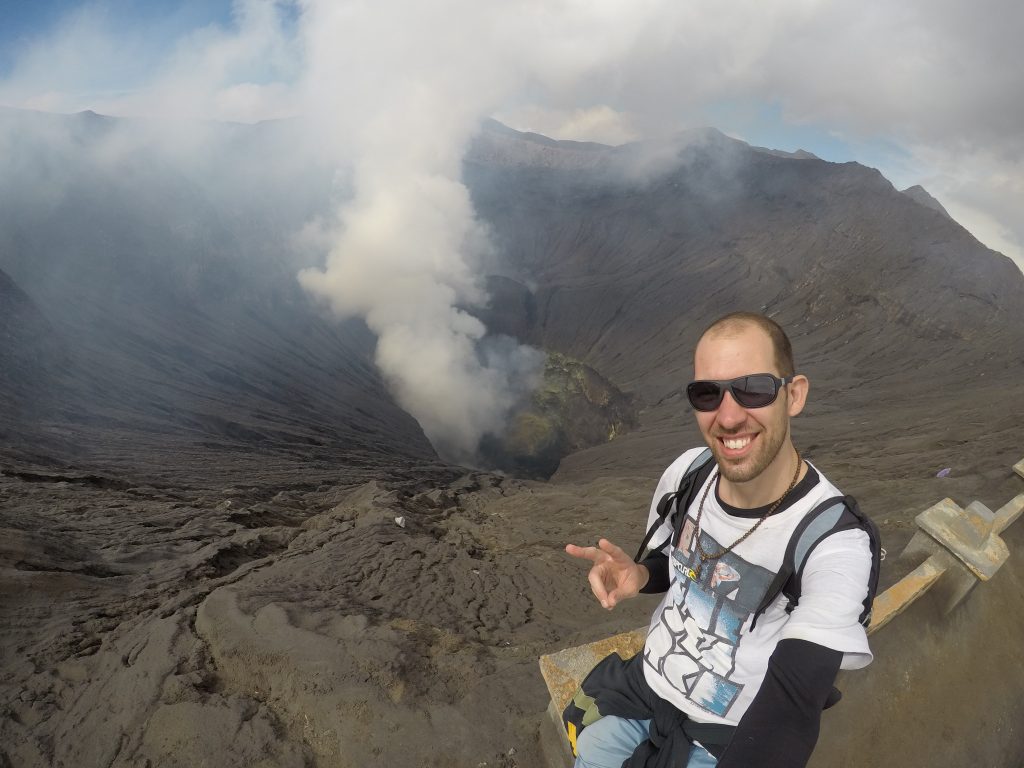 Bromo itself was special, because of the heavy drum noise coming from the middle of the volcano. It is quite interesting and don't really know how to explain the noise. Hear it for yourself! Check out the video: https://youtu.be/gj17p-hHguE
How to get to mount Ijen?
Take the train again, this time to Karangasem train station. If you stay in hostel Kampung Osing Inn, they have free pickup from train station, which is quite handy if you arrive in the evening. Then you either rent a scooter or team up with other travels for 600k IRP jeep.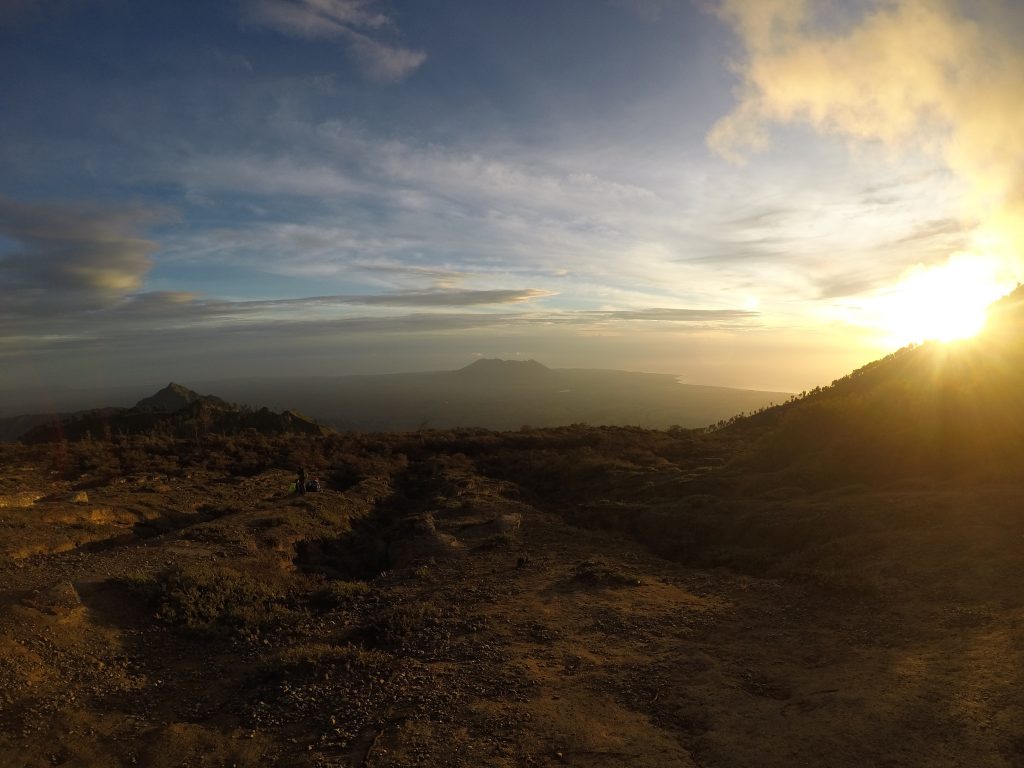 Ijen volcano is famous for its blue fire during the night. Unfortunately, it recently erupted and few sulfur workers are in hospital. Therefore, foreigners are banned to go down to the crater, where you can see the blue flames from close. I saw them from the top of volcano and it was quite small, but interesting. I would say, it wasn't worth it though. It's worth it when you can go down and risk your life 🙂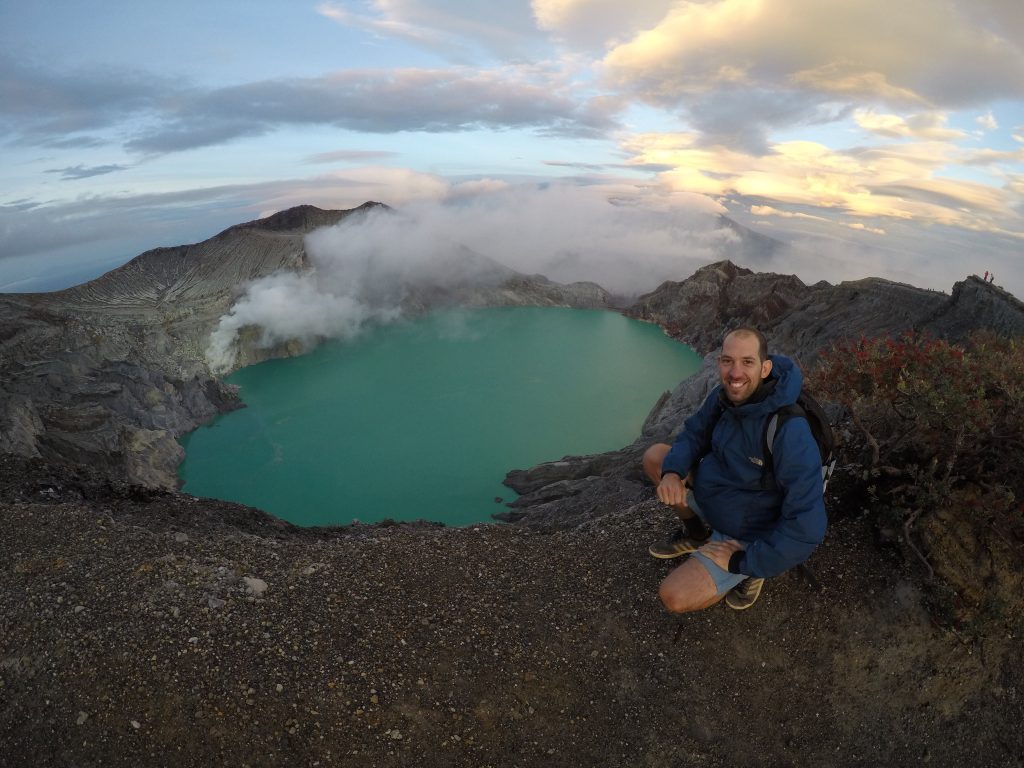 Anyway, the other special thing about Ijen is its huge sulfur lake. You can have some nice views from the volcano. Its quite interesting how every volcano is shaped in circle and you can just walk around it. Quite simple fact, but interesting.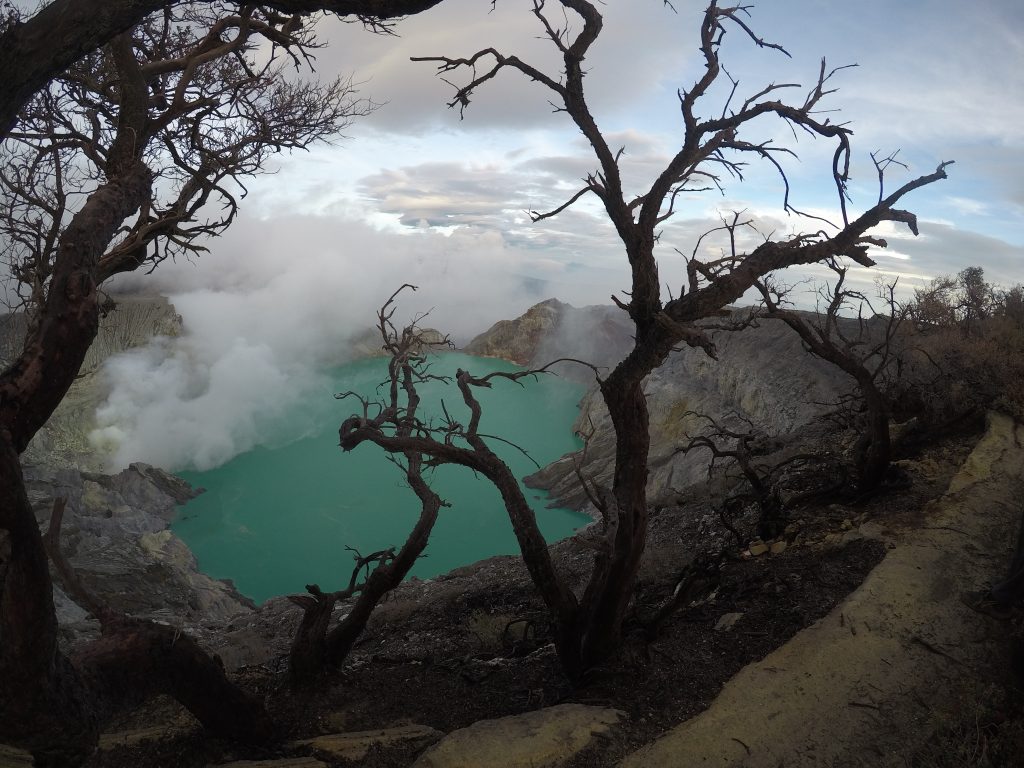 After sleeping poorly for 3 days we rented another jeep with group of people from Ijen tour to Bali and i didnt sleep on the jeep again. I thought after terrible journey from nepal i will be more relaxed, but these volcanoes put me quite off my day and night regime and I was mind lost for 1-2 days in Bali.
I just surfed and ate lots of cheap food and I will be flying to Komodo islands tomorrow.